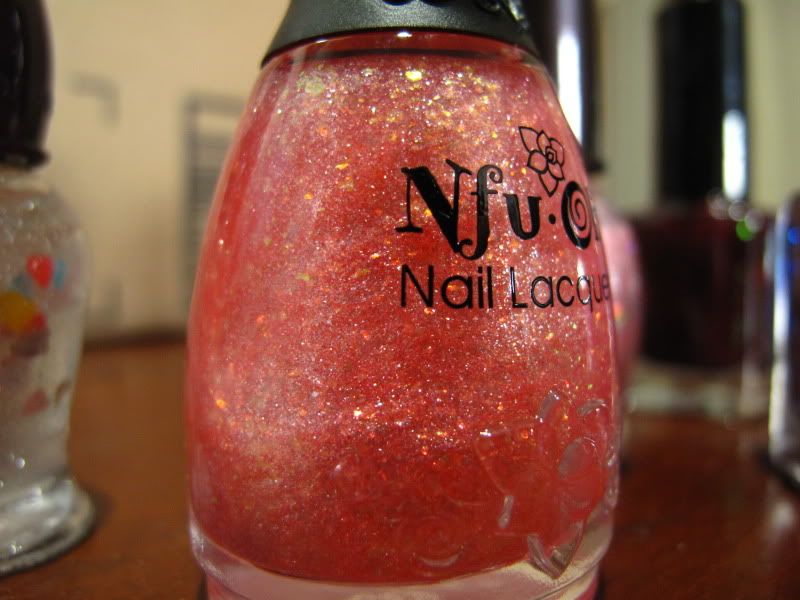 Hey everyone! So here's the deal. We're working on a HUGE giveaway (eventually, and it'll be a 1000 followers giveaway, and will keep you posted when we get closer to the #)
So for now, to keep the prizes a'rollin', I, personally (julie) am going to do a giveaway for 1 bottle of Nfu Oh 48 Flakie polish :) and a mystery polish from a premium brand. Do you see this Nfu Oh color? It's a flakie, it's a microshimmer, it's sheer, and PERFECT for the summer, or topping off any color. Just gorgeous. And works beautifully alone, or as a top coat for just about every color you can imagine. It's so versatile, and so uniquely Nfu Oh.
Sign up here, and once we hit 500, we will keep the giveaway open for 1 more week, and a winner will be picked.
So please, enter and spread the news! This is open to any country to enter. Please post below your e-mail address and name. (first name only) If you blog about this giveaway, you get 5 extra entries. If you put us in your blogroll, you get 2 extra entries. Tweet about us, 1 extra entry. Also, comment on our posts! Each new comment from hereon will get you 1 extra entry. (10 maximum limit) We have many months of past blogging racked up from before we had very many followers, so be sure to check those out!
Good luck!